List of 200+ Cryptography Resources
A curated list of cryptography algorithms, articles, blogs, mailing lists, websites, books, courses, tools. plugins, frameworks, and, libraries.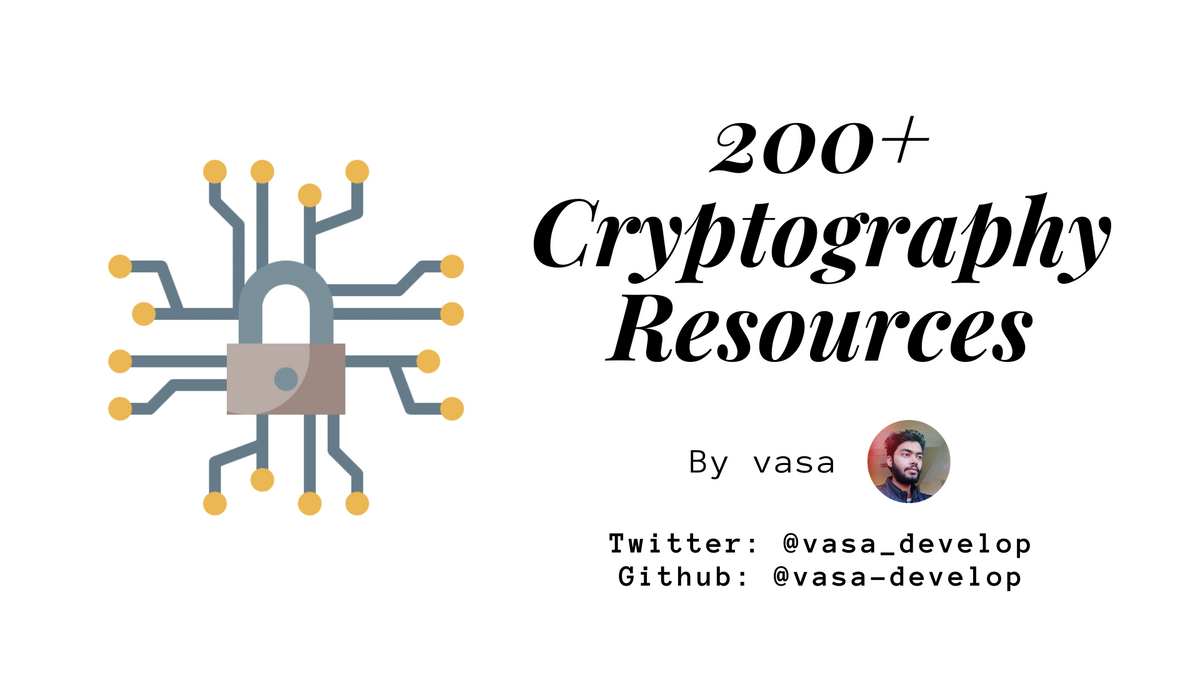 A curated list of cryptography algorithms, articles, blogs, mailing lists, websites, books, courses, tools. plugins, frameworks, and, libraries.
Contents
---
Theory
Algorithms
Symmetric encryption
3DES - Symmetric-key block cipher (or Triple Data Encryption Algorithm (TDEA or Triple DEA), which applies the Data Encryption Standard (DES) cipher algorithm three times to each data block.
AES - Symmetric-key block cipher algorithm and U.S. government standard for secure and classified data encryption and decryption (also known as Rijndael).
Blowfish - Symmetric-key block cipher, designed in 1993 by Bruce Schneier. Notable features of the design include key-dependent S-boxes and a highly complex key schedule.
Asymmetric encryption
RSA - One of the first practical public-key cryptosystems and is widely used for secure data transmission. In RSA, this asymmetry is based on the practical difficulty of factoring the product of two large prime numbers, the factoring problem.
Transform Encryption
Transform Encryption (aka Proxy Re-Encryption) - Transform encryption uses three mathematically related keys: one to encrypt plaintext to a recipient, a second to decrypt the ciphertext, and a third to transform ciphertext encrypted to one recipient so it can be decrypted by a different recipient.
Hash functions
MD5 - Widely used hash function producing a 128-bit hash value. MD5 was initially designed to be used as a cryptographic hash function, but it has been found to suffer from extensive vulnerabilities. It can still be used as a checksum to verify data integrity, but only against unintentional corruption.
SHA1 - Cryptographic hash function designed by the NSA. SHA-1 produces a 160-bit hash value known as a message digest. SHA-1 is no longer considered secure against well-funded opponents.
SHA2 - Set of hash functions designed by the NSA. SHA-256 and SHA-512 are novel hash functions computed with 32-bit and 64-bit words, respectively. They use different shift amounts and additive constants, but their structures are otherwise virtually identical, differing only in the number of rounds.
Articles
Books
Courses
Other lists
Awesome crypto-papers – A curated list of cryptography papers, articles, tutorials and howtos.
Awesome HE – A curated list of homomorphic encryption libraries, software and resources.
Tools
Standalone
Plugins
Git
git-crypt - Transparent file encryption in git.
git-secret - Bash-tool to store your private data inside a git repository.
Frameworks and Libs
C
C++
Botan - Cryptography library written in C++11.
cryptopp - Crypto++ Library is a free C++ class library of cryptographic schemes.
HElib - Software library that implements homomorphic encryption (HE).
Nettle - Low-level cryptographic library.
s2n - Implementation of the TLS/SSL protocols.
C-sharp
Clojure
buddy-core - Cryptographic Api.
clj-crypto - Wrapper for Bouncy Castle.
pandect - Fast and easy-to-use Message Digest, Checksum and HMAC library for Clojure.
Common Lisp
crypto-shortcuts - Collection of common cryptography functions.
ironclad - Collection of common crypto shortcuts.
trivial-ssh - SSH client library for Common Lisp (Built on libssh2).
Delphi
Elixir
Erlang
crypto - Functions for computation of message digests, and functions for encryption and decryption.
public_key - Provides functions to handle public-key infrastructure.
Go
Haskell
Haxe
JavaScript
Java
Julia
Lua
lua-lockbox - Collection of cryptographic primitives written in pure Lua.
LuaCrypto - Lua bindings to OpenSSL.
Objective-C
PHP
Python
R
rscrypt - Package for a collection of scrypt cryptographic functions.
Ruby
bcrypt-ruby - Ruby binding for the OpenBSD bcrypt() password hashing algorithm, allowing you to easily store a secure hash of your users' passwords.
RbNaCl - Ruby binding to the Networking and Cryptography (NaCl) library.
Ruby Themis - Ruby wrapper on Themis. High level crypto library for storing data (AES), secure messaging (ECC + ECDSA / RSA + PSS + PKCS#7) and session-oriented, forward secrecy data exchange (ECDH key agreement, ECC & AES encryption).
Rust
Scala
recrypt - Transform encryption library for Scala.
scrypto - Cryptographic primitives for Scala.
tsec - A type-safe, functional, general purpose security and cryptography library.
Swift
Resources
Blogs
Mailing lists
metzdowd.com - "Cryptography" is a low-noise moderated mailing list devoted to cryptographic technology and its political impact.
Modern Crypto - Forums for discussing modern cryptographic practice.
randombit.net - List for general discussion of cryptography, particularly the technical aspects.
Web-tools
Web-sites
Contributing
Your contributions are always welcome! Please take a look at the contribution guidelines first.
License
awesome-cryptography by @sobolevn
To the extent possible under law, the person who associated CC0 with
awesome-cryptography has waived all copyright and related or neighboring
rights to awesome-cryptography.
You should have received a copy of the CC0 legalcode along with this
work. If not, see https://creativecommons.org/publicdomain/zero/1.0/.